At the end of this school year, I was asked by my two bosses if I would teach the 2 year old class for the 2014-2015 school year. I was told that I could use this year to prove to the preschool administrators what I can do as an Early Childhood Educator from Canada and prove to them that I can lead a class.
I had to make a decision and I decided to do it. I have to admit that working with the 2's is more of a challenge than working with the 4's and K's this past year because they don't have the verbal skills or the attention span. It isn't really where I want to be, but to show them what I can do, I can do it for a year. Who knows, it may be something that I want to continue doing! The best thing is: It's MY classroom and I can do exactly what I did in Canada with the 2's I worked with there!
My classroom theme: ERIC CARLE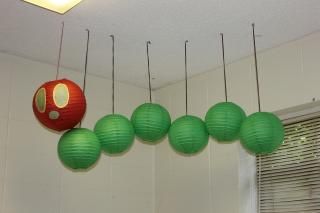 I think the hardest part was the planning that I spent the majority of my summer doing. Who knows, it may not be the hardest part....but the bulk of the planning is done for the year. It is just my job to execute the planning!!!!
Wish me luck!!!

Until Next Time,
SCRAP ON!
~Cyn~