It all started with a couple Expedit Shelves and a bunch of JetMax cubes gifted to me by a good friend. I have been organizing in my Scrap Haven for a couple of days and can almost see my table top! ALMOST!
I have been scrapbooking since October 2002 (about a month after we moved from Canada to Georgia). Since then, I have accumulated a lot of paper, embellishments and albums. Some of these items are still in their plastic wrap waiting for me to use them!
Now, you know that one of my goals from THIS post is to USE MY STASH.
Well, it all starts with knowing what you HAVE!
So, I started with my scrapbook paper....
Some paper is loose, some is in a plastic container, some is in a little poly folder and some came in a "stack".
I am forever pulling out the stacks to see what they have in them. I had an "AH-HA" moment while looking through all the stacks that I had and I wanted to share it with you. Who knows, you may have a few stacks on your stash and might want to use this idea for yourself!
Take a sharpie marker and write on the binding of the stack:
1) Manufacturer of the Paper
2) Theme of the Paper/Name of the Paper Stack
3) Floral, Girly, Boyish, Specific Season

Example:
Recollections: Modern Bouquet (Floral)
Like this: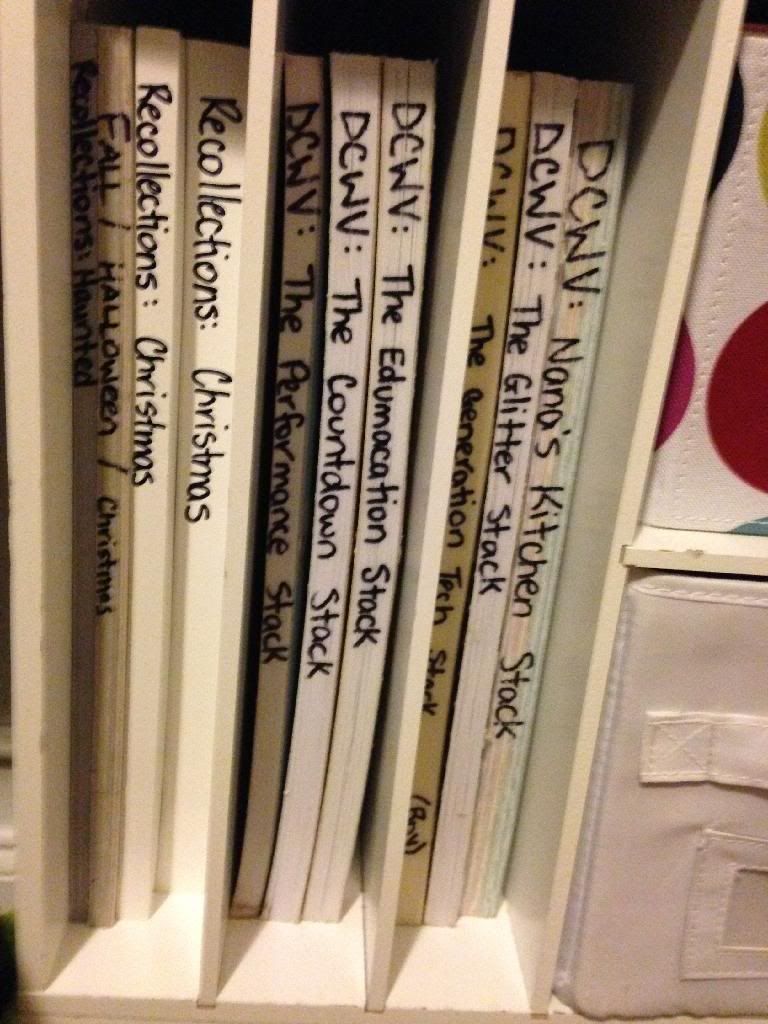 You just did an "OH! I never thought of that before! Ah-ha!" See? Ah-Ha Moment! I did it to the first stack, then the second and kept going until each stack was labelled.
Now, instead of grabbing each of the stacks that I have and flipping through them and wasting my scrappy time - I can eyeball them, see what each one is and keep looking for the "right" paper for the layout I am working on.
Genius, eh? Who'd a thunk it?
I am going back to finishing up clearing off my scrap table. I figure the sooner I get it cleared off, the sooner I can get to work on cutting out the titles for the two doors I am doing for the Pre-K and Kindergarten classes! I have a LOT to cut on the cricut! Sometimes, I wish I had 2 cricuts!!!!
Wish me luck!
Oh and for those of you wanting to see the progress so far on the Scrap Haven, here is a little sneak peek:

The birch bookshelf beside the Expedit shelf is the bookshelf/desk combo from THIS post. Ben put it together for me and I have already filled it! It fits perfectly in the room and holds all of my idea books, power sort boxes with all the photos I still need to scrapbook and some other projects that I am working on. It looks great so far! Now, to just finish the table and I can get to work on school stuff!!!!

Until Next Time,
SCRAP ON!
~Cyn~