Well, technically, they aren't really "NEW" challenges, but to me they are because this is the first year that I have actually attempted the challenge while WORKING!
USE YOUR STASH
GET SCRAPPY
WATCH PORTIONS & CALORIC INTAKE
MEAL PLAN 90% OF OUR MEALS
FINANCIAL PEACE
BEN AND CYN TIME
I haven't set any resolutions this year and I don't think I am going to. Shocking, isn't it?
What's a new year without resolutions?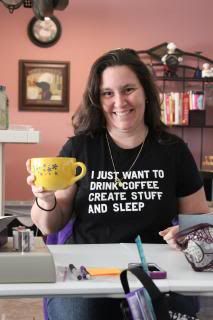 Well, it is a year for ~Cyn~.
I am going to focus on ME this year.
It sounds kind of selfish, and you know what? It's O.K.
You know that saying "It Mama ain't happy, then nobody's happy"?
Well, that is the case here at our house.

I want to improve ME - body, mind & soul AND my relationships with my family and friends.
By working on this, it will also improve
contentment & happiness in my day-to-day life which makes for a good family life at home. It makes sense, right?
These challenges for 2014 also means that some things have "got to go" to be able to achieve them.
(more on that later)

I am preparing/organizing to help me with the 6 items listed above.
I am working on a few posts to assist others that may have the same goals that I do this year. Should be fun!

Until Next Time,
SCRAP ON!
~Cyn~