YES, I name my vehicles!!!!
I also named my Cricut Expression too! But that is a different Blog post! HA!!!
I went through CarMax in Stockbridge, GA and the experience was wonderful.
Gary Moeller was my salesperson and he was able to bring in, from other stores, the two vehicles that I wanted to test-drive and choose from.

I test-drove:
I went with the 2010 Honda CRV and she is AWESOME!
Gary was very patient with me and my requests too! I know it is his job, but he didn't roll his eyes when I asked to test drive the Honda CRV again before I made my decision. Even though I had driven it once before, he opened the car door for me and away we went!
I wasn't pressured at any point to make my decision, I wasn't hassled by emails or phone calls. He just waited for me to figure out what I wanted in a new-to-me vehicle and make the decision.
I was able to give them the majority of the information before I decided on the vehicle.
We were in and out for the signing in under a half hour! Now THAT is what I call service!
I would highly recommend CarMax to anyone who needs a vehicle.
Wanda and I have already been on a little road trip down to Perry for a little scrapbooking trip and the ride was smooth and kinda fun! I am a happy camper!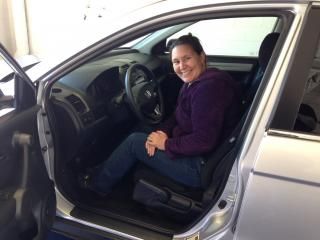 No buyers remorse from this chick!!!!
Until Next Time,