We are coming up on our 3-year anniversary in this rental and last weekend, after the yard sale, Ben and I took to the garage for a little "clean-up".
I had put the old grill out on the front lawn with a FREE sign on it and it wasn't out there for an hour when someone picked it up and carted it off.
I had already loaded up the leftovers and took them to Goodwill.
I had placed the bags of clothes in the back of my car to take to the MPCA Clothing Trailer.
I started by moving our riding lawnmower to the cut-out area near our fridge. That left a huge space in the middle of the garage and I started to see "potential".....potential to actually park in our garage for the first time, potential for better storage options for our stuff.
So, I started to work on the boxes that were in the middle of the garage. I wish I had taken a before picture!!! It was a full garage and a messy garage. I often thought we would never get to this point.
Ben came out after his shower and helped me start moving the boxes and other stuff around. I found several Rubbermaid bins that were half full or empty and put them in the driveway to get them out of there.

I went through a few Rubbermaid bins and threw out old college textbooks that I wouldn't need.
You know the ones I am talking about....I betcha you are holding onto yours in your garage/basement/attic/crawl space. The electives that you took or the core classes that you don't use much in your day to day life: sociology, student wellness, student study techniques, psychology. Yep, I kept them from back in 1994-1997 (now I am showing my age) when I was in college in Canada. They have made the move from my parents house in Ontario, to our first home in Ontario, to our second home in Warner Robins, GA and now to our home here. Why? They just took up storage space and were heavy as heck to tote from place to place! Why? WHY?!?!?!
I digress.....
Here is what we have come up with so far and I have to admit that there are still a lot of boxes that we need to go through and figure out what to do with the stuff:
sell it

donate it

"file 13" it
But at least we can park in there now!!!!
Before we pulled the cars in....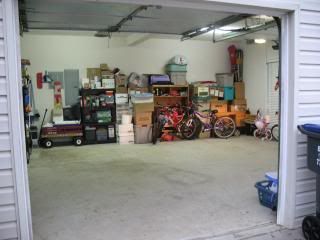 My car in the garage......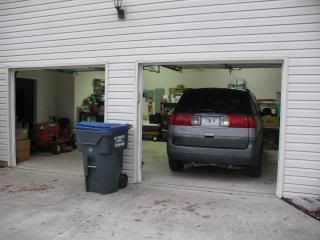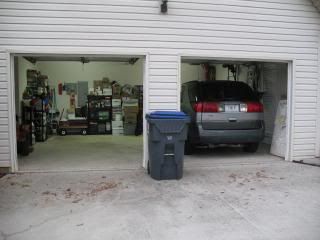 Both cars in the garage and my handsome hubby who helped!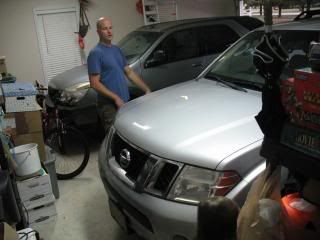 I think it looks pretty good, if I do say so myself!