A great way to make money in a short period of time is to participate in a yard sale.
My neighbour and I talked about doing it and we set a date. There is nothing that lights a fire under you than a deadline.
That was the kick-in-the-pants that I needed to get started with piling up items for the yard sale.
I already had all the outgrown clothes on hangers and in rubbermaid bins in the garage. So, I literally pulled them out of the bins and hung them up on the clothing racks that I borrowed from a friend that does a lot of clothing consignment (thanks Dawnie).
The next thing I did was go through the toy box for any items that the children didn't play with anymore and put them in a box in the garage. I started doing this earlier in the summer and didn't finish (adult ADHD - isn't it great?). So, I just continued on with this task.
I also went through our closet to get out anything we weren't using anymore.
I went through a bunch of boxes in the garage.
You know those items that you just feel weird about throwing out or even giving away? You know the ones.....they make every move with you, even though you have never used them or have used them once and never again?

Well, I had a few of those and I put them on the tables to sell.
I made a promise to myself that whatever didn't sell would be boxed up and taken to Goodwill after the yard sale. Everything that went in the garage/yard sale would NOT come back into the house......
That didn't happen......
Sophie brought one of the shape sorting toys back into the house. This is just a small item and I am sure that it will "disappear" in the coming days.
By the time I was finished cataloging all the items for the clothing donation for the MPCA Clothing Trailer, it was 5:30 and I was starving.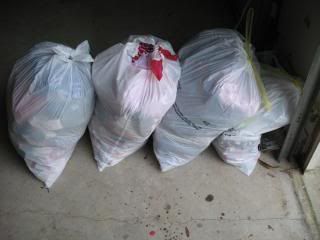 Dawn helped me bring the tables into the garage with all the items that did not sell. I promise NOT to bring them back into the house! The garage held them until I cataloged everything before taking them to Goodwill this afternoon.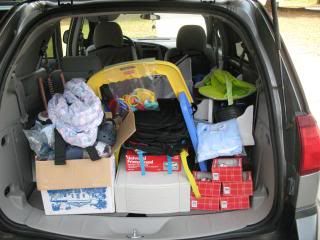 My neighbours have decided that they will do it again next week. I may put out a few items next week to see if they go, but I am even considering going through the house again.
It feels GOOD to purge and get rid of stuff that just sits there! The extra cash in your wallet is nice too! I made $215.00 and I cleaned out my garage!
You know what the best part of my day was? There are SEVERAL!!!!
A lady came who was from Haiti and she bought all my summer outfits to send home to her people. I gave her all the items for 50 cents a piece because I know that Haiti needs all the help they can get! She was a super sweet woman!
A woman named Doreen and her hubby walked over to have a look and she saw a Xyron "X" sticker maker. She said "I know what this is!!!" We got talking about scrapbooking and how it is hard to get out stuff to scrapbook when you don't have a space. I took her inside to show her my "scrap haven" and we got to talking about all the new scrappy stuff and CM and CTMH. She mentioned going to Perry and I asked her if she knew Lisa Mosely and she said YES!!! The world got a little smaller!!!
The then went on to tell me about Fran Washko and I told her that Frannie was my side-line sister for Creative Memories!!! The world got a whole lot smaller! We exchanged numbers and emails and plan to get together to scrapbook sometime! FUN!!!
Talking to everyone that came to the house - if you really don't believe that everyone has a story, you really need to have a YARD SALE!!!
Hanging out with my neighbours and meeting their daughters (they live in SC).
It was FUN!!!!
Not only did I make a little money, I cleaned out the garage a bit AND made a new SCRAPPY friend!
Awesomesauce!!!!
Until Next Time,
SCRAP ON!
~Cyn~