8 Things About Sophie RIGHT NOW....
June 18th, 2013 Edition
Sophie will be 4 in 4 months!
She is potty training (yes, a little late, but she is stubborn like her parental unit and wouldn't even try until we "ran out" of Luvs). She is having a little difficulty with #2 in the potty. She wants a pull-up for that. We tell her "No, Pull-Ups are for naptime".
Sophie loves "Sofia the First" from the Disney channel and we have even downloaded it from iTunes for her to watch on my iPad.
She asks every day if she can go out on her bike.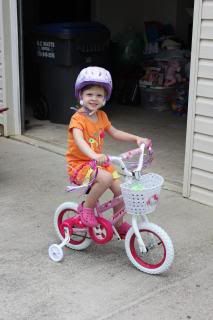 Sophie loves to be outside if at all possible (UNLESS there's bugs out there that she can see - bees, flies, etc.)
Daddy is Sophie's "Person" and if you've ever watched Grey's Anatomy, you would know what that means! When she gets hurt, frustrated or even when I scold her, she wants DADDY.....
She loves to draw and colour. She sits in my Scrap Haven with me and gets out markers and goes to town with them in her little composition book.
Sophie antagonizes and annoys her brother Nathan, but there are moments where they play so well together and are so cooperative with one another.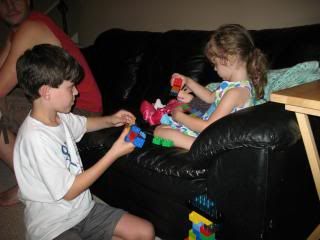 But alas, she is the "little sister" and will antagonize him over and over again and even tattle tale on him. So we call her the Drama Queen....she has been nicknamed that since she was a day old (thanks, Grandad!)
SCRAP ON!
~Cyn~