I have been a busy girl these past 3 days! As "Room Mom" for Nathan's Class, I get the privilege of putting together the scrapbooks for each of the children in the class to take home at the end of the year. The thing is.....there are only 9 days! So, I have busted out my Cricut, started working on my Design Studio to do all the titles and have cut them all out.
Luckily, there are only 20 students to work on. The problem? Mrs. Brady has not had a chance to print out the pictures that we are planning to use! ACK!
So, today, I spent the good part of the day at the school making the little books that will be used for this project using their little binding machine. VERY COOL.....I have Nathan's left to do because I ran out of coloured paper for his book. So, I came home with the books and plan to adhere all the titles that I have cut and the lion heads I have cut into the books and get them started. Then once the photos are printed, I will just have to crop them down and get them put into the album. Shouldn't take too long.
Cricut cuts = 360 items (not to mention the ones that I screwed up)....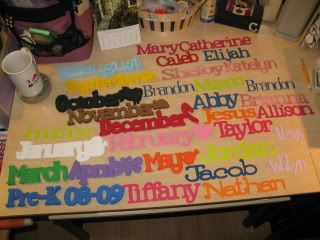 So, my scraps and paper stash is being used for sure!!! WOOHOO!!
Keep Scrappin'!
~Cyn~