As I said in PART 1 of the organization posts, I have had a really hard time trying to find which cards would work in my page layouts. I previously had the cards sorted and stored in Medium CTMH Organizers by kit. Both 4x6 cards and 3x4 cards were stored together.
It just wasn't working for me.
If you ever feel like something isn't working for you in your creative space, you change it right?
Well, I decided to take matters into my own hands and change the way I had the cards.
I have found that I use the 3x4 cards a little more than I use the 4x6 cards.
I decided to organize my cards alphabetically by kit and then by size. The first CTMH box was used solely for 4x6 cards - alphabetically by kit name.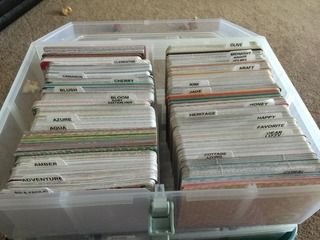 Half of the second CTMH box was used for the rest of the 4x6 cards I had.
The other half of the CTMH box, I started over with the 3x4 cards. Again, I organized the cards alphabetically by kit name.
Now, I also have some themed cards from Hobby Lobby that really didn't fit into a kit but are used throughout my albums for specific trips, school functions, birthdays, etc. I have an Antonius plastic organizer from IKEA that I used just for these kinds of cards. It is arranged alphabetically and sorted by size as well. I have even stored the grid and lined 3x4 and 4x6 cards in the Antonius organizer.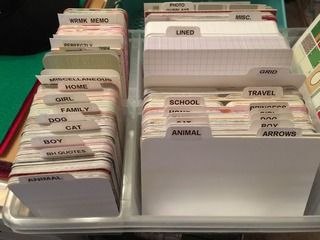 I guess I will see how it all works when I get my daughter's scrapbook out and try to get some layouts done! Wish me luck!
Until Next time,
SCRAP ON!
~Cyn~